Sweet Summertime Favorites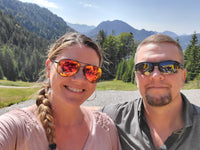 Aimee & Will
Hey y'all!  Thanks so much for stopping by our page!
We are so very thankful Aimee was introduced to Paparazzi in March of 2012.  Will was initially a little unsure, but will quickly tell you how glad we discussed it again and decided to jump aboard. 
Our passion is TRAVELING! We love that we have the ability to explore other countries, and the best part is we get to bring our 2 boys (13,9) along! Aimee homeschools them and it's so fun to incorporate their learning along with our travels.  (Not to mention taking vacations whenever we want, not just the summer!)
Our lives are proof you too, can work your business from anywhere! 
Find Us Here
Starlet Shimmer - Little girl's accessories
Thank you so much for visiting my Store!
Join Aimee Miller's Ah-Mazing Team!
Do you love $5 Paparazzi Jewelry as much as I do?  Join my team!   I'll teach you how to make serious extra money part-time or unbelievable money full-time. 
Like anything in life, you get back what you put in, but with Paparazzi, it's Christmas everyday when a new box arrives!  The Jewelry literally sells itself because everyone can afford $5.00! 
Feel free to email me- ahmazingaimee@gmail.com if you have any questions I can answer for you.
Visit my Paparazzi Accessories website - http://www.fashionableforfive.com